My daughter said she wanted to be Harley Quinn for Halloween this year.
Actually, I think I may have heard my husband talk about it last year and perhaps she mentioned it before too. BUT, you know how kids are… they want to be one thing and then they want to be another and then they change their minds AGAIN….. and then, there you are with 3 different costumes…. I KNOW YOU CAN RELATE!
Anyway, this year we went for it and I must say, she makes a REALLY good Harley Quinn!
To be honest, I had no idea who Harley Quinn was, I had only seen some photos. I did a little google search and found info on comic books and was happy to see there was an actual movie! I ended up renting Suicide Squad on Amazon Prime so my girls and I can watch it. Great movie! AND now I know who she is.
Here are some of my favorite Harley Quinn quotes…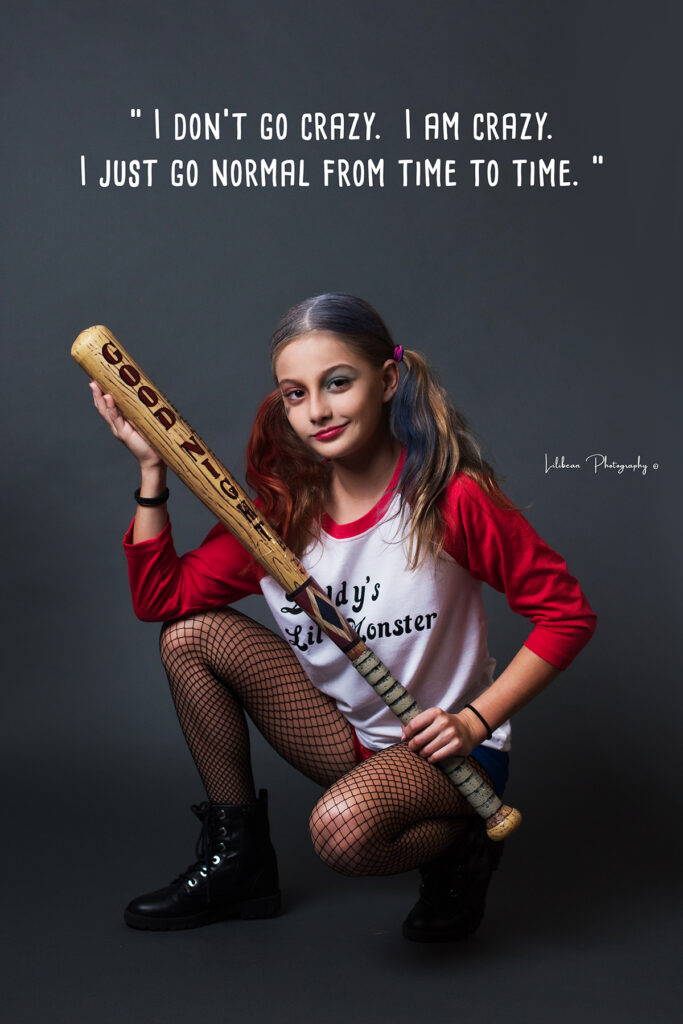 "It soon became clear to me the Joker was actually a tortured soul.
Yes, I admit it. As unprofessional as it sounds, I had fallen in love with my patient. Pretty crazy huh?"
" I'm rubber, you're glue, whatever you say bounces off me and makes a six-inch-diameter exit wound in you."
" I'll never understand why Superman wears the same outfits every day."
"I've made so many mistakes and there's no one left who believes in me."
"If I'm mad enough to skip the tears and go straight to laughing, you better run cause I'm about to lose my shit."
"I'll burn the world just to see the fire in your eyes.
"Sometimes the only way to stay sane is to go a little crazy"